So back in Prague, this time with Mom. And this time to head home. We got here around noon and took a cab to our amazing hotel. One of the many perks of having a travel agent mother is her great connections to amazing hotels at amazing prices. We are staying at the Crowne Plaza at the Prague Castle. Best location for me since we are on top of the hill and can easily walk down without any physical excursion to all the major sites. And when we were done we just took a cab back to the top. I am trying to stay very mellow for the next couple of weeks. No lifting of heavy objects, no walking up long flights of stairs, just trying to keep my heart rate normal and attitude positive. Staying positive in Prague is so easy for me to do. I love this city, this may be my favorite European city. Everywhere you turn there is something unique to look at. The buildings, churches and food are so different and wonderful. Plus the exchange rate is very nice! It reminds me of Paris without the pretentiousness.
I took Mom across the Charles Bridge and into old town. There were a lot of highschool tour groups from Italy around this afternoon, which made Mom and I laugh at some of the outfits. It was freezing today, and the highschool girls were in skirts and tights with knee high boots...so silly! Oh to look good at 16 is very important, so much more important then body temperature.
My favorite part of the day was going to the top of the astronomical clock in old town. We learned they had an elevator to the top so up we went. I am huge baby when it comes to heights so it freaked me out. We got some great pictures but I can't show them on the blog yet until Mom gets home, darn broken camera! Here's a picture from the internet of the clock. We were at the top!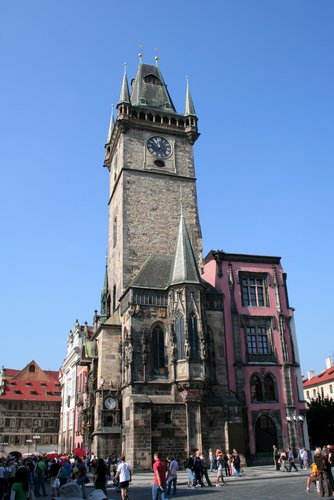 Something out of Disney!
After our walk around old town back to the hotel we went. Our hotel is next to a monastery which has a restaurant attached. The lady at the front deck of the hotel said the monks made the food but I think she was pulling our legs because the guys serving us didn't look like monks but then again we saw a nun on the train today with a cell phone and travel backpack on. The times they are a changing.
Off to an early bed time. I am taking medicine three times a day that is helping my body accept the embryos. Almost like tricking your body to thinking it was already pregnant. Well, the side affects are symptoms of early pregnancy. I am so sleepy!! I need naps during the day! Mom has her ambien and I have my baby pills and together it's a musical symphony of snoring.
Hopefully we will have an internet connection in our Paris hotel so I can blog tomorrow. To get ready for Paris, Mom and I watched French Kiss. Great movie with Meg Ryan and Kevin Kline. My Mom, sister and I quote this movie ALL the time.